The weight of wood panels is a huge issue with every one of our clients and within every part of the woodworking market. Advantages of weight reduction can be categorized as the following:
Lighter Weight Panels Greatly Reduces Panel Damage
When thicker solid panels are used the sheer weight of the panel is self-destructing because they are very difficult to handle. Whether it is moving the panel from station to station in a shop or final installation, a heavy product is very susceptible to damage. Minimize the weight and you minimize possibilities of laminate chips, veneer pressure marks, and scratches. The answer is lightweight panel technology.
Solid Panels Require More Hardware and More Installers
A solid panel requires far more expensive structures to mount or hang. A simple example of this is sliding doors or panels. Hardware such as hinges, slides, and sliding doors are quite inexpensive for the high volume range. As soon as you move outside of this range, hardware becomes very expensive and often more difficult to procure. Reduce the panel weight and stay with tried and true hardware options.
Solid Structure Require More Expensive Freight and Logistics
There is a very distinct advantage in weight reduction for lightweight panels for freight. Not only is there a direct cost reduction for freight costs, but product volume per pallet can be increased which also reduces labor costs.
---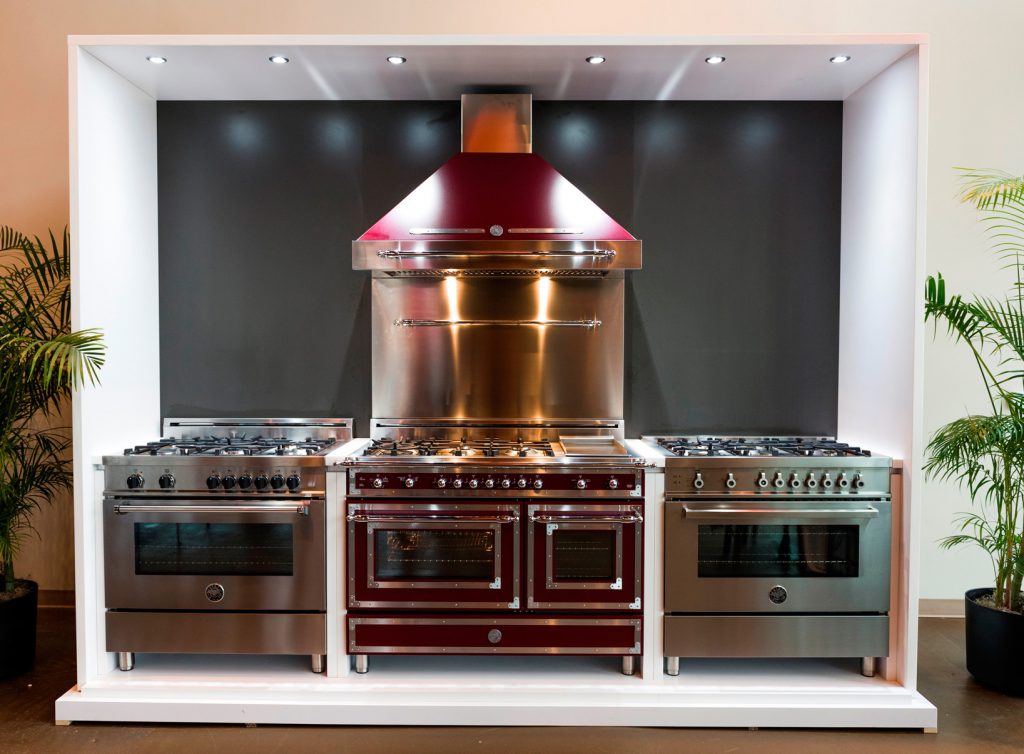 ---
For example, this picture shows a high end Bertolozzi appliance display. They required a display which portrayed the brand image of the company but yet also was cost effective, stable, and could be easily assembled. Think Lightweight panel technology filled every aspect of this project needs perfectly!
Consider the ceiling panel market in architecture. Large format ceiling panels are becoming more and more prevalent in the design world. With lightweight hollowcore panels you are minimizing weight while increasing panel size parameters and decreasing the number of support points.
The tradeshow market also clearly illustrates advantages of weight reduction. The hourly rate for a tradeshow installer averages $270 per hour. In addition, they must complete their task with severe time constraints. Minimize the weight with hollowcore products and you reduce the manpower and increase efficiency.