What sizes are available?
Please refer to the individual product pages in the catalog or on click on Products and select the product you are interested in, it will take you to a page that specifies the sizes available.
In-stock product may change by distributor location.
What is the maximum thickness?
This will vary by product, but we typically suggest the maximum thickness to be 2-1/4" as this is normally the thickest panel that can be processed through edge banders and other woodworking equipment.
We have made panels up to 6" thick so please Contact Us with any special requirements and we will assist you.
Do you only sell sheets or do you sell finished product as well?
We manufacture up to 1,500 lightweight panels per day and this is a blend of stock sheets and finished, laminated, edged, machined components.
Do you provide custom sizes?
What can we saw it with?
This will vary somewhat by the product. The panel grippers of a beam saw may crush some of the products with lower compressive strength characteristics.
Do you sell direct or through distributors?
Where are your distributors located, how do I find them?
Do you export to other countries?
Not at this point, although we are open to for specific requirements.
How can I edge band?
How can I fasten it or connect it to another hollow core panel?
Is there hardware available?
Is it fire rated?
Fire ratings can only be given to a finished product not a raw material. Because of this we cannot state that our products are fire rated as the results would vary when the finish was applied.
That being said, we have achieved Class A fire rating on some of our products, please Contact Us with your specific requirement.
Is it FSC?
The products are not sold as FSC unless requested, but we can supply them FSC certified as required.
Where is it used?
The top six markets for Think Lightweight products are:

Retail stores
Furniture
Restaurants
Hotels
Trade Shows
Movie Industry
How does it compare to plywood and other wood panel materials?
Please refer to the 'Comparative Weight Analysis' guide on page 20-21 of the catalog for details – this can be viewed or downloaded here.
What is the lead times for these products?
Many of the products are stocked at the distributor, please check stock at your Local Distributor.
Non-stock products and finished component lead times are 4-6 weeks.
How much do I have to order and costs?
Where does it come from?
The product is manufactured in Canada and the raw materials are sourced primarily from Canada and the USA.
Which one do I use for what?
This is a complicated question as there are many variables that influence the decision.
Please complete and submit your details on the 'Think Lightweight Custom Quote Creator' and we will provide the best product to meet your requirements.
How does it work with moisture?
Think Lightweight products are raw wood materials and must care for in a similar manner to any other raw wood material.
Exposure to humidity variance and direct sunlight will cause issues like any other wood panel.
Is it good for acoustic applications?
Some of the products have some excellent acoustic properties, please Contact Us for your specific project.
Can Think Lightweight products be veneer pressed?
This will vary somewhat by the product, please contact us for more information.
Is it waterproof?
Think Lightweight products are raw wood materials so they are not waterproof
We have supplied numerous finish component solutions when waterproof panels are required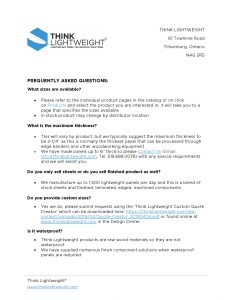 Download the Think Lightweight FAQ's in PDF format.