Create an elegant and clean style in your space with Think Lightweight's new floating shelf solution. With our easy to install and lightweight design, you can expand your storage space while adding a fresh modern touch.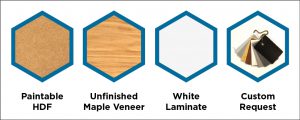 Our floating shelves are available in 7 standard sizes with your choice of paintable HDF, unfinished maple veneer, and white laminate.
You can also customize your shelf with a wide range of veneers and laminates, as well as a custom width and depth to fit your project's request. Our product comes ready to use with everything you need to quickly and easily install your shelf!
Download your Floating Shelf Brochure here and contact us to order yours today!